Lead Servant: Pastor Kwaku Marfo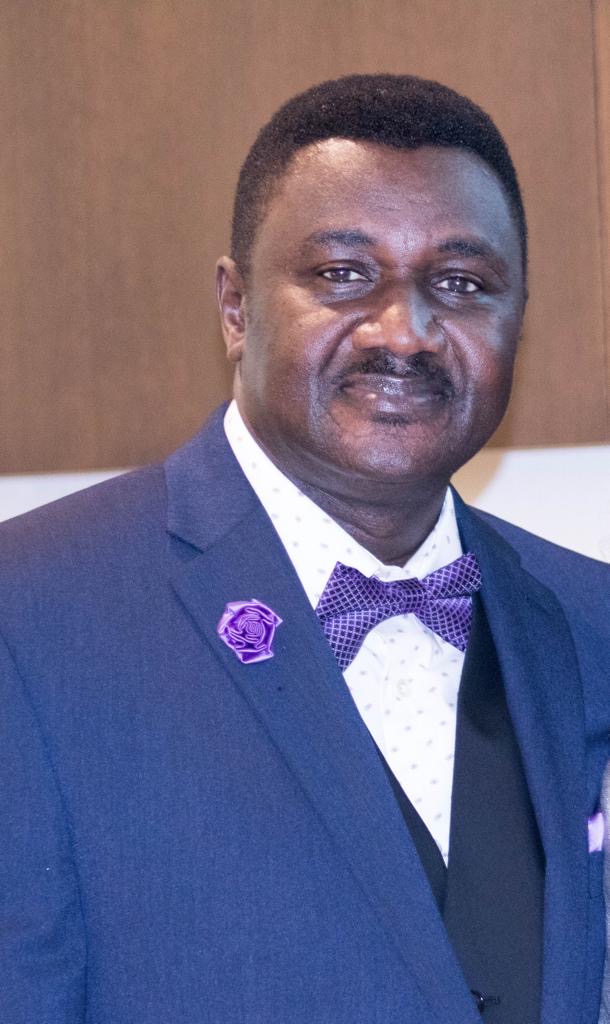 Pastor Kwaku Marfo is the Senior Pastor of International Central Gospel Church, Delaware. He was very instrumental in the formative years of the Delaware assembly. Together with a few dedicated members the first meeting of the church's covenant family was held in the basement a couple's home in Bear, Delaware. After about a year, on February 1, 2015, the church officially had its first service at the Embassy Suites Hotel, in Newark, Delaware. In less than a year, the church moved from the hotel to an amazing location at 60 Fir Avenue, Bear, Delaware, where they had their services for almost 2 years. 18 Shea Way, (Suite 110), Newark, Delaware is the present location of the church. Pastor Marfo has faithfully led this congregation, delivering powerful biblical messages that encourage righteous living and complete reliance on God.Pastor Kwaku Marfo started attending the International Central Gospel Church (ICGC) in 1987 at the Baden Powell Hall, in Accra. A year later (1988), he committed himself as a member of ICGC.
In the same year he was part of a team on the University of Ghana campus, which helped with the setting up of the Campus Christian Family (CCF). At the time the group comprised members of ICGC, Victory Bible Church & the Grace Outreach Ministry. He was vice President of CCF in 1989. While working as a Geologist at the AngloGold Ashanti Company, Obuasi (1995-2004), he was an active member of ICGC (Shiloh Temple), Obuasi. He moved to the United States in 2004 and played a prominent role in the leadership of ICGC, Liberty Temple, New Jersey. In 2007, he relocated with His family to Winnemucca, Nevada to work briefly with the Newmont Mining Corporation, as Ore Control Geologist. He moved to the state of Delaware a year later. Since there was no ICGC branch in Delaware, he joined the Lighthouse Chapel International, Delaware (LCI) and contributed immensely to the praise and worship ministry of the church. Six years later he realized a strong urge within him to start a branch of ICGC in Delaware in 2014. He officially informed the leadership of LCI, Delaware, about plans to get ICGC started in the state of Delaware. In August, 2014, the first meeting of ICGC Covenant Family was held in Bear, Delaware.He has been married to Mrs. Joyce Ewuraesi Aboagye-Marfo, a Registered Nurse by profession since 1996 and they are blessed with three children: Nana Adwoa, Maame Yaa & Papa Kwadwo.
Pastor Dr. Mensa Otabil is a Ghanaian theologian, philanthropist, motivational speaker, entrepreneur. He is the founder of International Central Gospel Church headquartered in Accra, Ghana. In 2013 he was considered the twenty fourth most influential Ghanaian. He is also the founder and Chancellor of Central University College.He also serves as the senior pastor of Christ Temple, a ministry of the International Central Gospel Church, with a congregation in the tens of thousands. His over-riding passion is to see the timeless principles of the Bible made applicable to the renewal and transformation of Africa. His messages speak to the pertinent concerns of a continent and people seeking solutions to their perplexing challenges.
Dr. Otabil is chancellor at Ghana's premier private university – Central University College. He also serves on several Boards and Trusts of organizations. He is committed to human uplifting and presents the inspirational radio and television broadcast – The Living Word. He has authored numerous books and he is a highly sought-after speaker at major conferences and mega churches around the continents of the world.
Dr. Mensa Otabil is a respected Christian statesman: a well-tested pastor, an educator, an entrepreneur, and a motivational speaker. He founded International Central Gospel Church and oversees the multi-faceted network of ministries of the International Central Gospel Church worldwide, with its headquarters in Accra, Ghana.
General Overseer: Rev. Dr. Mensa Otabil